I take some old quizzes from bbspot.com website. Here are results:


Which OS are You?
Most surprising for me, I used Amiga OS only a few times. I prefer to be classified as *nix OS.

Which File Extension are You?
Personally, I want to be a database format. Unfortunately, in this test that kind of answer doesn't exist.


Which Programming Language are You?
I would like to be a C++ or python.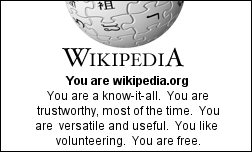 Which Website are You?
Excellent answer. The best one out. Although I remember better connections and relations than raw knowledge. As I always say, I'm not a hash map.